Tired of searching for spare parts?
Start finding them

with Partium

Give technicians the power to search via image and text using exact terms, descriptions & attributes and refine the results by using filters.

Request a Demo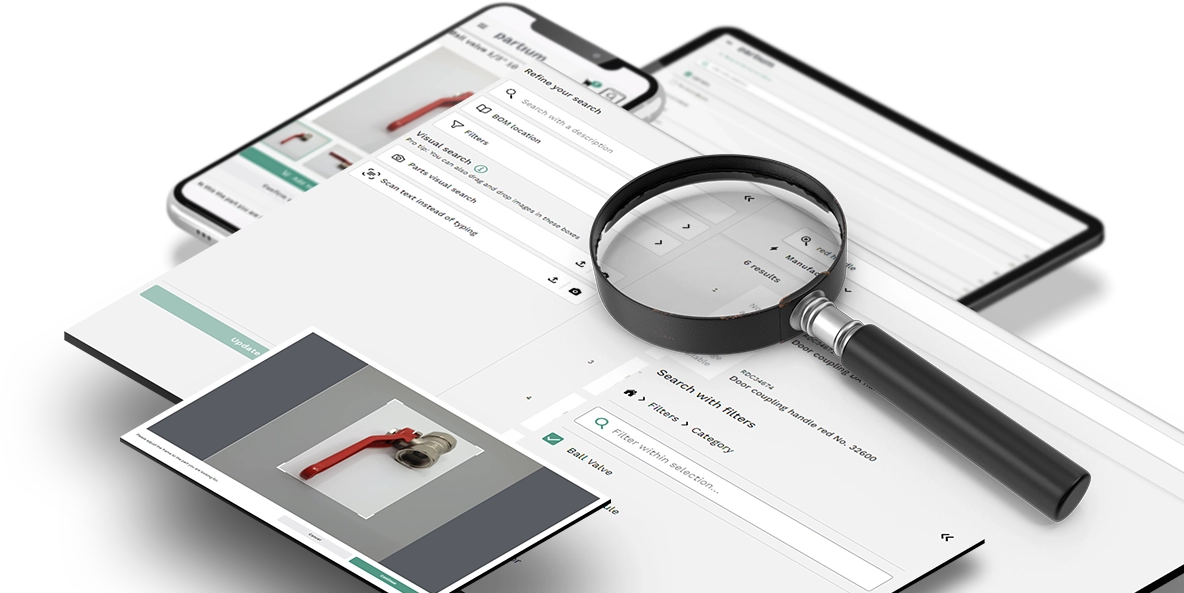 Fusion AI Part Search
Our Partium Enterprise Part Search is the only search on the market that combines multi-AI-based search modalities into a unified Fusion AI Part Search experience for technicians and users.
Inject the power of Artificial Intelligence into your part search processes and introduce your technicians to the next level of part search to help them find parts within seconds.
Search by picture / image and code
Use the advanced text search
Filter through BoM, location and category
Image Search
With Partium, technicians can search your spare parts catalog, portal & webshop faster, easier, and more conveniently. Simply by snapping a picture of the part.
Partium's image search works without reference images by leveraging its advanced understanding of spare parts. Wonder how that works? Reach out!
Fast Visual Search by picture / image or code
Take an image with your smartphone or use existing images
Partium's Visual Search works for everyone - even without reference images
Text Search
With Partium, you can access the next level of text search for your parts portal, webshop, or maintenance system.
Our advanced semantic text search allows technicians to search for parts using names, descriptions, synonyms, and abbreviations.
Combined with Partium's exact text search, this search modality gives your users the most flexibility to use the best possible text search for their part queries.
Use features, descriptions, and more for your search
Refine or search through exact terms
Combine both text searches for challenging parts
Partium is the

next level

of Part Search
Browsing part catalogs, portals and webshops to find the right part takes time and is almost always inconvenient and time consuming for users.
Our search capabilities are for both experienced or more junior users who need to find the right part despite facing a catalog with limited or even unstructured information.
Filter Search
Partium's Filter Search is a quick and easy way for technicians to find their parts faster, especially when searching for a part with distinct attributes such as diameter, voltage, or material.
Partium's Filter Search also leverages the Bill of Materials hierarchical categorization of parts in machines, assemblies, or other structures. Users can browse the whole index and select one or more nodes to limit the search to all parts associated.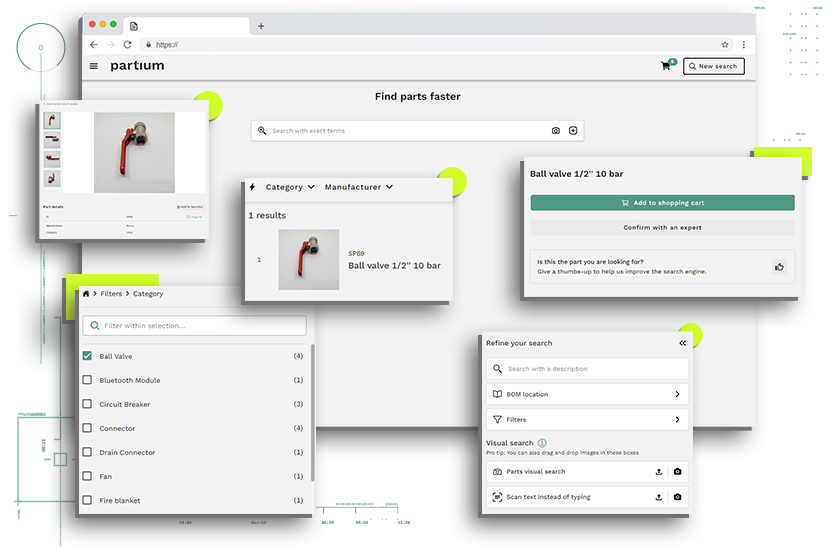 For all Devices
Partium supports all desktop, tablet, and mobile devices simply by using Partium's web app or integration into your own application suite.

Multi-Language
Partium's advanced Semantic Multi-Modal Search supports English and German out of the box. Our Image Matching technology works for all languages.

Enterprise Ready
Partium comes with multi-tenancy and refined permission management and gives you detailed control over the data your internal users and external customers can access.
Works with the Data you have
Our Partium Enterprise Part Search comes with a pre-trained AI that works even with very limited master data and zero reference images.

Ready for Integration
We have developed Partium with organizations in mind that already have digital solutions for aftersales, service & maintenance. Our SDK makes the integration quick and easy.

Highly flexible & versatile
Partium helps to speed up part search processes. Our customers use it in aftersales, service, maintenance, field service, and remanufacturing.
Search on all devices, everywhere
Partium is fully responsive and available on mobile, desktop & web. You can integrate Partium with the Partium SDK into your own applications as well.