The Smart Filters will boost the search experience by using tailored algorithms that compute the five most suitable filters to find your part faster
Smart Filters are only available for customers with attribute master or catalog data ingested and configured for filtering. Read more about data types here.
What are Smart Filters?
Smart filters are the fastest way to boost the search experience with attribute data, guiding the user to the right part dynamically.
On top of the standard, alphabetically-ordered Attribute Filters, Smart Filters support the users in finding the correct part fast and easily by proposing the most suitable filters for the current search. For organizations that have Attributes in their master data, the user will find up to five Smart Filters on the results screen.
To compute the Smart Filters, Partium's search engine is equipped with tailored algorithms that our research team developed in accordance with catalog data analysis and user research. The proposed attributes aim to maximize the ease of choice while minimizing the time spent searching for the right filters.
How to apply Smart Filters
Since Smart Filters are based on the results of the current search session, they appear after the user initially submitted a search query. After the query is sent, the user will find the Smart Filters in the search widget on the results screen.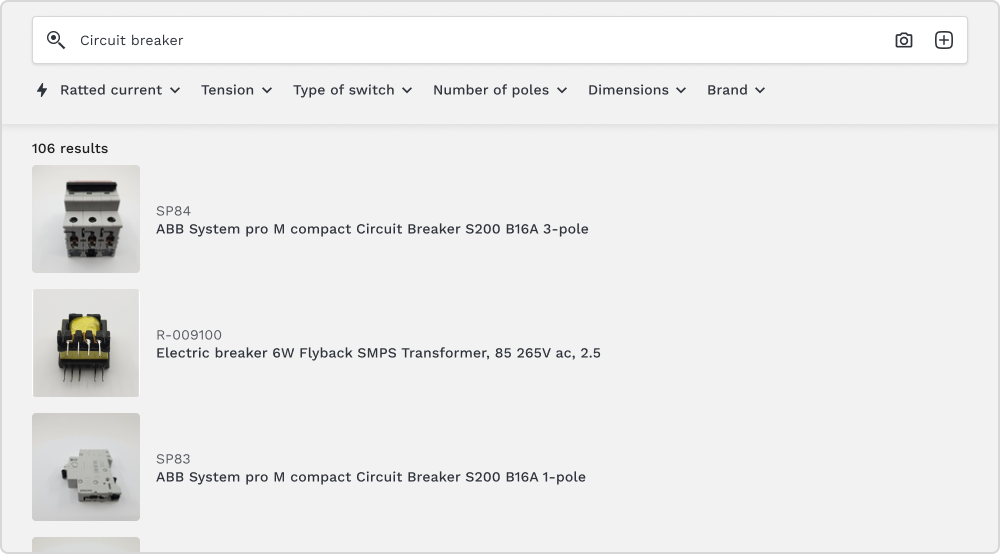 Depending on how many Attributes are available at this point, the user will see up to five filters proposed dynamically.
When opening an Attribute, users will see the corresponding Values along with the number of parts associated with each Value.
The user can select one or many Values and directly submit a new search by clicking on "Update results". As soon as the new results are loaded, the set of Smart Filters is newly recomputed and the user has a new set of choices to get to the right result faster.
See Get started with Partium Find to learn more about how to find parts faster using Partium Find functionalities.